Oct – Dec 2017 Bali eNewsletter
Discounts, Deals & Bali Diving Specials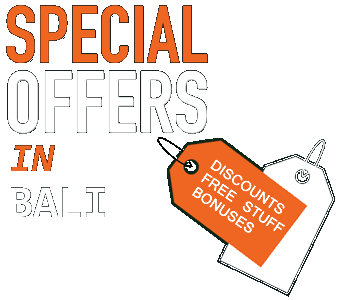 All Bali Diving Specials Must be Booked in Advance
Special Offers on this page are for diving in Bali.
Offers on this page must be booked in advance.
You can book any time to dive in the months shown.
Monthly Bali Diving Specials are valid for the entire month unless otherwise specified.
Only for new bookings; available for single divers with min 2 participants.
Subject to space/Instructor availability; excludes gear rental (unless stated otherwise).
PADI Specialties do not include diving fee or gear.
Accommodation (where stated) is double/twin share; subject to availability at time of booking.
Beyond Bali Diving Specials
Read our Beyond Bali eNews for Discounts, Free Flights, Free Diving and more for diving throughout Indonesia.
Winners – PADI Divemaster Programme and PADI Specialty Courses
Congratulations!
3rd Quarter 2017 PADI Specialty Winners are Scott K. Cooper and Chee Ping Sim, both of whom have already been contacted.
How to Win a PADI Course in Bali
Take any PADI Course with AMD-B in 2017. You might be interested in our Manta Ray Awareness Specialty?! You'll automatically be entered into:
our Quarterly Prize Draw to win one of TWO PADI Specialty courses
AND
our Annual Prize Draw for a free DM Course (this is the final Quarter in 2017)!
Contact Us today.
AquaMarine Diving – Bali's Outstanding Opportunity
11 Month PADI Divemaster Internship for Indonesian Citizens 
We are now recruiting for our 2018 '11Mth PADI Divemaster Internship for Indonesian Citizens'. Closing date for applications: 31 October 2017.
So far, the strongest applications have been from girls!
Our annual Internship Programme is one way in which we try to 'give back' to the dive community by raising the quality of Indonesian Dive Guides.
After completion, participants may stay with AMD-B or move elsewhere (sometimes moving/returning to other islands in Indonesia where they share their new-found knowledge).
Max number of participants is four; each participant is assigned a mentor to support them throughout their training, and given a full set of dive gear for the duration of the programme.
If YOU know anyone who's ready to start The Adventure of a Lifetime on 05 Jan 2018, please ask them to e-mail us on HRD-Dive@AquaMarineDiving.com, thank you 🙂
2017 Mola-Mola Specials (Experienced Divers Only)
Valid until 15 November 2017
2017 Mola-Mola Day Trip
Price includes 3rd Dive FREE of charge and full rental gear


Pay Only (Per Diver):

†

IDR 210 $£€¥…USD 155 | 
2017 Mola-Mola Safari
2 days / 1 night / 6 dives
Price includes full rental gear; min 2pax.
Accommodation: Deluxe Bungalow, The Watergarden Hotel & Spa, Candidasa


Pay Only (Per Diver):

†

IDR 527 $£€¥…USD 390 | 
October – December 2017
Free AMD-B T-shirt for everyone booking an Oct-Dec 2017 eNews Special Offer!
The below offers are for Tulamben Bay and Nusa Penida (inc Manta Point and Mola-Mola sites); min 2 participants.
♦

Day Trips

Pay for 2 tank dives, get 3! Diving at Nusa Penida inc Manta Point (and Mola-Mola sites if they're still around!)

Pay Only (Per Diver):

†

IDR 210 $£€¥…USD 155 | 

 
♦

Safaris

Staying in a Superior Room at the lovely Alila Manggis for three nights!
4 Days / 3 Nights / 9 Dives – Valid: 01 Nov – 19 Dec 2017.

Day 1
Pick up in South Bali; Transfer to Tulamben Bay
You choose! 3 Day Dives OR 2 Day Dives & 1 Night Dive
Day 2
3 Day Dives at Nusa Penida inc Manta Point and Mola-Mola sites
Day 3
You choose! Either "as Day 2" (maybe depends on MM sightings?)
Or 3 Day Dives at Mimpang/Tepekong/Blue Lagoon (outside Padangbai)
Day 4
Rest & Relax
Min 2 pax.
Pay Only (Per Diver):

†

IDR 

912 

$£€¥…USD 

675

 | 

Published Price USD1,010
♦

PADI Courses

PADI Advanced OW Diver course in Tulamben Bay and Nusa Penida.
2 Day Course; 6 dives (includes 1 FREE Dive at Manta Point)

Pay Only (Per Diver/min 2 Divers):

†

IDR 534 $£€¥…USD 395 | 

 
January – March 2018
For the whole quarter
♦

Day Trips

Book 3 days diving Jan – March 2018: Receive your 3rd dives FREE. (Further discount with eLearning added) 

Pay Only (Per Diver):

†

IDR 575 $£€¥…USD 425 | 

 
♦

Safaris

Macro Lovers' Safari

3D/2N/10 Dives Diving at Tulamben Bay/Sidem and Blue Lagoon/Jetty

Accommodation: Deluxe Room, Mimpi Resort Tulamben  

Pay Only (Per Diver):

†

IDR 729 $£€¥…USD 539 | 

 
♦

PADI Courses 08-31 January

Published USD475

Pay Only:

†

IDR 575 $£€¥…USD 425 | 

 
(or USD400 with eLearning)

Published USD395

Pay Only:

†

IDR 466 $£€¥…USD 345 | 

 
(or USD320 with eLearning)
♦

February

Chinese New Year (16 Feb) and Valentine's Day – month long deal!

5 Days / 5 Nights / 8 Dives (option to add dives): 

Pay Only (Per Diver):

†

IDR 933 $£€¥…USD 690 | 

 

Diving: Tulamben Bay, Amed, Outside Padangbai, Nusa Penida including Manta Point

Accommodation: Deluxe Bungalow, The Watergarden Hotel & Spa
♦

March

International Women's Day (08 March) & UK Mother's Day (11 March)

Celebrating women around the world!

Book a Day Trip for 08-11 March: 20% off for female divers
Greetings from Bali where the weather is getting warmer and the ocean cooler!
So far (mid-Sept), it's been a fabulous Mola-Mola Ocean Sunfish Season and current (ha-ha!) signs are it will continue – so, if you've time for a last-minute trip to Bali, I'd suggest you take the opportunity.
Since July, AMD-B divers have had some absolutely brilliant Mola-Mola Trips around Nusa Penida; we've seen them almost every day and sometimes on multiple dives in one day.
I believe Mola-Mola are in Bali's waters year-round but are only seen at recreational diving depths July to mid-November. Mola-Mola get external parasites (up to 40 kinds!) which need to be removed. They rise up in the cold, but very fertile, upwelling from the 3.5km deep Bali Trough off Bali's southern coast, to get cleaned by schools of bannerfish – that's how we are able to see them stationary for any length of time.
The most likely locations to see Mola-Mola are Nusa Penida and, later in the season, outside Padangbai/Candidasa on Bali's east coast.
As the temperature can get pretty low (and based on past complaints that 5mm full wetsuits are too thick to be comfortable), if you're joining a  MM Trip and book it in advance; we have 3mm shorties to go over our 3mm full wetsuits; this gives a snug 6mm of neoprene to keep your core as warm as possible.
Please read AMD-B's Mola-Mola Code of Conduct and our Mola-Mola Diving Guidelines – it's all about enjoyment and safety (for all – you, your buddy, other divers, guides, boat crews, and the Mola-Mola themselves).
We've also had squadrons of Manta rays around SW Nusa Penida, 15-20 on some trips. It is worth mentioning that Mantas can be seen year-round in Bali; unlike some other tropical destinations, they are not seasonal … so if, like me, you are interested in Manta rays, why not take your PADI Manta Ray Awareness Specialty?
*did you know the collective noun for rays is a "fever"?
Best from Bali
Annabel
Every three months, AMD-B donates AUD500 to specific projects at Project AWARE. We encourage you to donate too.
Project AWARE is a global movement of scuba divers protecting our ocean planet – one dive at a time. Focused on the critical issues of Sharks in Peril and Marine Debris, Project AWARE empowers thousands to work together for a clean, healthy and abundant ocean planet.
Regular followers of AMD-B's Bali eNewsletter know we donate USD50/month to different charities plus we give our guests the opportunity to donate. For Oct – Dec 2017, we have chosen the charity East Bali Poverty Project.
MISSION STATEMENT:
Our Mission is to eliminate poverty and promote culturally sensitive, sustainable social and economic development in the impoverished rural communities of East Bali, Indonesia, prioritising the health, nutrition and education of children.
Our chosen charity for July – Sept 2017 was Bali Mother & Baby House to whom AMD-B and guests donated a total of USD150.
The aim of this charity is to provide continuous education to young woman and teens, which will help them to prevent unwanted pregnancy and will encourage desperate mothers to safely surrender their baby, rather than abandon them.
Best of Bali Dive Safaris 2018
Our Best of Bali Dive (aka BoB!) Safaris 2018 are fantastic value, with great diving and accommodation – choice of 13, 8 or 7 day programmes.
These Best of Bali Dive Safaris have fixed start dates, and guaranteed departures with a minimum of 2 divers.
The itineraries include both shore and boat-diving, a wide variety of dives: walls, wrecks, reefs, drifts, with opportunities for macro and wide-angle photography. At these sites you'll see fantastic hard and soft corals, great density and diversity of marine life – from large pelagics such as Manta rays and Mola-Mola (Ocean sunfish) in season, to the tiniest juveniles and pygmy seahorses.
We still have some spaces on some of the last 2017 Trips 🙂
View details and dates for 2017 and 2018 BoB Safaris – or just Contact Us.
2017 PADI Open Water Diver to Divemaster Interns Lynda & Herdi
Interns Update
Under the supervision of our Senior Dive Staff, Lynda and Herdi are now working full-time as AMD-B Dive Guides – as well as leading some of our Snorkelling Trips. Working as part of AMD-B's dive team enables them to build upon and practise their skills; their knowledge and experience of marinelife and diving conditions around Bali improves daily.
Don't forget this year could be your year to become an Intern with AMD-B for 2018 – see our details above.
AMD-B turned 18 years old on 18th Sept 2017
We were actually too busy to celebrate on the day but there's a big party planned for later this year!
Would you like to save USD125?
Then take your PADI Nitrox (Enriched Air) Specialty with AMD-B 🙂
Normally USD240: USD 175 eLearning (PADI Price) + USD65 AMD-B Specialty Course Price.
We are now offering a Complete Package Price (course including eLearning) for USD115.
And THEN we'll give you free Nitrox for the rest of your trip 🙂 Plus a FREE Nitrox T-shirt!
Contact us to get this offer today
DIVE 2017
London
21-22 Oct
Booth 566
Annabel is looking forward to returning to Birmingham. We love this show and are excited about our exclusive DIVE Show specials including a 12 Day /11 Night/17 Dives Safari and a very interesting Group Special. Don't forget about our Prize Draw at the show!
DRT 2017
Hong Kong
15-17 Dec
Booth R221
Another great Dive Show where Wayan (Director of Diving Operations) and Aan (AMD-B Instructor) will be meeting up with both familiar and new faces. As always, we are offering great Show Specials and a Prize Draw.
Useful Info and Things Unique to AquaMarine
No Check Dives with AquaMarine
Marine Life Sightings
†
Disclaimer: We are required by law to display prices in IDR (Indonesian Rupiah). IDR prices are divided by 10,000. Click the $£€¥… link beside each price to display the price in your currency. Exchange rates are updated once per day. Today the rate used is 1 IDR = 0.000074 USD (1 USD = 13,518 IDR). These values are provided for informational purposes only. Please contact us to verify exact prices.