2019 Bali Diving Discounts, Specials & Dive Packages
Discounts on Diving in Indonesia
These promotions & more in Bali and throughout Indonesia (Beyond Bali) are featured in our Bali eNews and Beyond Bali eNews.
Be sure to subscribe to our eNews to be the first to see the latest Bali diving discounts, specials and deals throughout Indonesia.
"Diving in Paradise" Safaris with Alila Manggis
Best Dive Package in Bali!
Stay at Alila Manggis Resort
Dive with AquaMarine!
Dive Packages are available:
01 Apr – 15 Jul 2019

16 Sep – 23 Dec 2019

06 Jan – 31 Mar 2020
Unbeatable Combination
Superb accommodation in a tranquil setting + great diving = unbeatable combination.
4 Days / 3 Nights / 12 Dives
†
IDR 
1,424 
$£€¥…USD 

1,044

 | 
pp based on 2 divers
7 Days / 6 Nights / 12 Dives
Includes Whitewater Rafting & Land Tours
†
IDR 
2,033 
$£€¥…USD 

1,490

 | 
pp based on 2 divers
Resort Location: Candidasa, Bali
Dive Sites: Tulamben Bay, Amed, outside Padangbai/Candidasa, and around Nusa Penida
Extras: Barbeque Lunch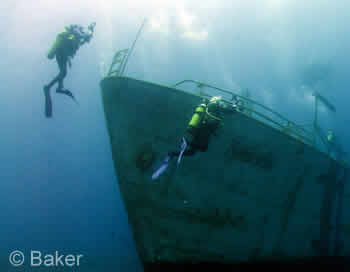 Dive Two Shipwrecks in 1 Day
USAT Liberty – Tulamben Bay
Totally intact "Relax Bali" – Kubu
Book 2 Wreck Dives in 1 Day!
Two Shipwrecks in One Day?!
Yes, really! Bali has a new shipwreck. It's very conveniently located in Kubu, just north of Tulamben Bay (world-famous for the 120m USAT Liberty shipwreck).
Now named 'Relax Bali', the 150 ton boat is over 38m in length, and was built in Holland in 1952. More recently used as an Indonesian government patrol boat, it was sunk last month to create an artificial reef … aiming to attract both marinelife and divers!
AMD-B is offering a "Two Shipwrecks in One Day" (2S1D) Day Trip.

2S1D Price:

†

IDR 157 $£€¥…USD 115 | 
What a wonderful day: Relax Bali: A totally intact boat and the USAT Liberty in Tulamben Bay: Beautifully encrusted with hard and soft corals; home to a wide variety of marinelife.
Post a FB Photo – Get an AMD-B 2-for-1 Dive Voucher
If you take any great photos (underwater or topside) while diving with AMD-B,
Please upload them to AquaMarine Diving Bali's Facebook Page
as you could receive an AMD-B 2-for-1 voucher for your next Trip!
That's right – we are offering many prizes, not just one! We won't be awarding the vouchers weekly/monthly, it'll be when we receive a photo that we particularly like (and Annabel particularly likes MM and Manta rays!) – doesn't matter if you are beginner, amateur, semi-pro, whatever, we'll take your level into consideration.
Please include the date, location, depth, subject and copyright. We'll announce winners on our FB page so keep checking back. We may even use your photo on our website (if you're happy with that!). So, don't wait. Book a Trip, Post your Photos!
PADI Diver Education Promotions
We often have exclusive Bali diving discounts relating to PADI courses that can either be stand alone or incorporated into your Dive Safari.
Validity: 2018
Book a PADI Course
Win a Free PADI Specialty or DiveMaster Course
Take any PADI Course with AMD-B in 2018 and you will
be entered into a Quarterly Prize Draw to win one of TWO PADI Specialty courses! And

be entered into our Annual Prize Draw for a free PADI Divemaster Course!
Contact Us today.
Choose from: Boat, Drift, Manta Ray Awareness, Multi-Level/Computer, Night, Peak Performance Buoyancy, Underwater Naturalist, and Wreck Diver. [Nitrox, Deep Diver and Digital Underwater Photographer (DUP).
Specialties also available, add USD60 for the required manual.
Prizes include: Full rental equipment, PADI certification, diving as required.
Quarterly winners will be contacted by email and announced in AMD-B's following e-Newsletter.
Check the paragraphs below for more Bali diving discounts.
1 Month PADI Divemaster Programme
AMD-B's DM Programme is seriously jam-packed.
Only:

†

IDR 1,296 $£€¥…USD 950 |  per candidate
You'll honestly be amazed what this knockout price includes.
See also the opportunity to WIN A FREE 1 Month PADI Divemaster Programme!
PADI Enriched Air (Nitrox) Certification Deal
Longer dives, shorter Surface Intervals, and less sleepy after diving. What's not to love?
Just do your Nitrox theory on-line (PADI's e-learning), nominating AMD-B as your Dive Centre, and

your AMD-B price will be only

†

IDR 89 $£€¥…USD 65 |  pp!
In addition, PADI's Nitrox e-Learning option brings you even more advantages besides saving precious holiday time: If you complete your Nitrox course as above, you'll be qualified for yet another of our Bali diving discounts! AMD-B is offering FREE NITROX for the rest of your holiday with us! Contact Us for full details.
Current eNews Deals, Dive Discounts and Offers
You'll find many limited time offers for the current season in our
Bali eNews, published quarterly, contains Bali Diving Discounts
Beyond Bali eNews, published monthly, contains exclusive to AMD-B deals throughout Bali
Be sure to subscribe to our eNews lists so you won't miss the latest offers!
2019 Bali Diving Discounts
Don't forget to check our main Specials page soon for our 2018 Bali diving discounts and deals.
† Disclaimer: We are required by law to display prices in IDR (Indonesian Rupiah). IDR prices are divided by 10,000. Click the $£€¥… link beside each price to display the price in your currency. Exchange rates are updated once per day. Today the rate used is 1 IDR = 0.000073 USD (1 USD = 13,643 IDR). These values are provided for informational purposes only. Please contact us to verify exact prices.