About AquaMarine Diving - Bali
British Owned Bali Dive Shop / Bali Dive Centre / Bali Dive Center
AquaMarine Diving – Bali: The Company
AquaMarine Diving – Bali (PADI 5 Star Dive Resort 6344) is owned and operated by Annabel Thomas, English, PADI OWSI 462621.  The dive centre is located in Seminyak/Petitenget (a little to the north of the Kuta-Legian area).
The focus at AquaMarine is to provide both high quality service and the best possible diving for guests, offering programmes to suit each diver's interests, experience and preferences. Attention to detail is a hallmark of the AquaMarine experience. Although AquaMarine has grown over the years, this has never been at the expense of personalised service.
AquaMarine was founded by Annabel in 1999 and is the only British owner-operated dive centre in Bali. Annabel's concept was to plan dive trips as she would want arrangements made for her were she a diver visiting Bali, and this philosophy of individual attention continues today.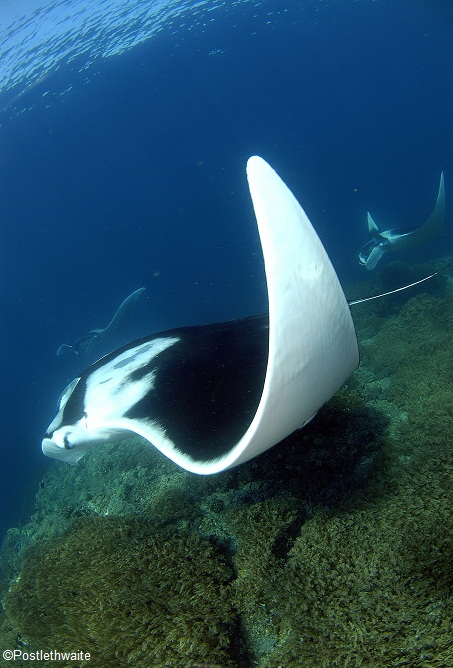 Diving with AquaMarine – Benefits
AquaMarine focuses entirely on diving – Dive Safaris (diving and accommodation packages), Day Dive Trips, and PADI courses. AMD-B is one of the few dive centres in Bali that is totally dedicated to diving. Of course we would be delighted to arrange other activities for guests (from whitewater rafting to Balinese cookery courses, and much more).
AMD-B offers diving at all of Bali's better dive locations, and provides hotel pick-up and drop-off for all guests. Multi-day Dive Safaris are organised with a choice of hotels near the dive sites.
AMD-B does not own accommodation which means our guests are not 'locked' in to one resort and restricted to one dive location. Instead, we have contracts with hotels and resorts around the island. Some hotels are chosen as they are close to the dive sites, others for non-diving portions of Bali holidays. Our programmes are flexible with a choice of accommodation to fit each guest's preferences and budget.
Helpful Info & Things Unique to AMD-B
Asked to describe AquaMarine, Annabel replied "We're pretty good! Obviously we couldn't be what we are without Bali's incredible diving, but we are also a great team, both in the office and out in the field. I'll leave words like 'premier', 'industry leader/pioneer', 'outstanding', 'most respected' and so on to other operators, but the number of repeat clients, and people who come to us through personal recommendations, is testimony to our standards."
---
Dive Team
AquaMarine Diving - Bali Dive Team
All of AquaMarine's PADI dive team are Indonesian and speak very good English; more than 70% of them are PADI Instructors or above. They were all recruited not only for their levels of expertise, but also their dedication and commitment to the company.
AquaMarine Diving – Bali dive staff stay long-term: Some have been with the company for well over 10 years, and others return to work with AMD-B after a break working at resorts and liveaboards elsewhere in Indonesia. AMD-B dive guides all know every dive site in Bali like the back of their hands, which gives AquaMarine led divers an advantage over divers led by newly hired expat dive guides. AquaMarine's dive team have also trained dive staff from operators as far afield as Raja Ampat, West Papua, both on-site and at the AMD-B Seminyak facilities. They are also (when available) retained as freelance guides/spotters by places such as Wakatobi Dive Resort and Liveaboard.
Returning clients often choose to schedule their trip when their preferred dive guide is available. AMD-B is unique in the fact that we offer a service for our clients to request specific and private dive guides.
Request Your Favourite Dive Guide or Instructor
In 2012 AquaMarine Diving – Bali introduced its latest initiative to re-invest into Bali's dive community: The "AMD-B 11 Month PADI Divemaster Internship for Indonesian Citizens". This initiative arose as AMD-B looked for ways to invest back into the local community, providing the highest level of training for each candidate so that they can confidently pursue a career in Indonesia's dive industry.
View our Dive Support
Transport by Road
Air-conditioned Minibuses Custom designed to provide maximum leg room.
The interiors of AquaMarine Diving – Bali's seven air-conditioned Isuzu Elf minibuses were custom-designed to provide maximum leg room.
AMD-B minibuses carry 6 passengers + driver and guide; other companies carry 12 passengers in the same space….
Transport by Sea
AquaMarine's Custom Made Dive Boats
AquaMarine Diving – Bali's dive boats are, without a doubt, the three best custom-made dive boats in Bali.
Each boat has either two or three 4-stroke Suzuki engines (200 or 250hp) and has a 3-person boat crew.
For your comfort, our dive boats include an exit ladder, ample tank storage space, on-board toilet, cushioned seating, non-slip floor mats, roof for protection from sun and wind/rain, sundeck with mattress, coffee/tea/hot chocolate and bottled water.
Safety equipment includes marine radio communication, life jackets, life rings, fire extinguisher, O2 kit, and first-aid kit.
---
Dive Equipment - Bali Dive Shop
AquaMarine's Dry Equipment Room
AquaMarine's 20 metre dive equipment building consists of the dry equipment room, wet equipment area and the compressor room.
AquaMarine mainly uses Oceanic and Aqualung equipment, with ScubaPro wetsuits (very comfortable). 3 Bauer Mariner compressors are used to fill our 200+ tanks. Most tanks are 12 litre aluminium, with some 6, 8, 10 and 15 litre tanks available. Nitrox is available in 12 litre tanks.
Environmental Awareness
Green Fins
AquaMarine Diving – Bali became a member of Green Fins in January 2018. Green Fins is the world's first externally-assessed set of environmental standards for SCUBA diving and snorkelling centres. Being a Green Fins Member requires an annual assessment, follow-up training (if required) on environmental standards, and following the Green Fins Code of Conduct.
PADI Green Star Award
AMD-B is a PADI Project AWARE PADI Green Star Award Recipient. AquaMarine Diving – Bali has received the PADI Green Star Award which demonstrates our "dedication to conservation across a wide range of business functions".
Project AWARE
AquaMarine Diving – Bali actively supports the Project AWARE Foundation. The Foundation promotes programmes beneficial to the environment such as ecological clean-ups, public environmental education programmes and research. It is therefore in everyone's best interests to support this organisation!
Included in the AquaMarine fee for each PADI course is USD10 which is donated to Project AWARE. Also, guests undertaking Dive Safaris are offered the opportunity to make a voluntary donation to the organisation.
AquaMarine's on-staff Project AWARE Coordinator arranges regular beach and underwater clean-ups involving our Dive Staff, Boat Crews, and Drivers.
Blue Project by AMD-B
On April 2019, we launched our new project: 'Blue Project by AMD-B', part of our commitment to sustainable tourism development.
Through 'Blue Project (BP) by AMD-B', AMD-B will able to share our knowledge of environmental awareness through education, training and organised activities.
---
Charities Supported by AquaMarine