2022 PADI Divemaster Internship for Indonesian Citizens Programme
2022 7 Month PADI Divemaster Internship for Indonesian Citizens
Ten years ago, AquaMarine introduced the "AMD-B PADI Divemaster Internship for Indonesian Citizens" Programme; a major initiative to re-invest into Bali's dive community.
The Internship provides the highest level of all-round training so that each Intern can confidently pursue a career in the dive industry.
2012-20, AMD-B accepted up to four participants annually. However, due to decreased tourist numbers caused by the pandemic, and to ensure sufficient relevant experience, only one participant accepted for the Internship since 2021.
Every member of AMD-B's Dive Team will be involved with PADI (OWD to DM) and Dive Guide Training. Our PADI Instructor Aan will be direct Mentor for the Intern.
Start & End Dates
Training will start on 01 April and finish on 31 October 2022.
Criteria for Internship Applicants
Indonesian Citizen.
Age: 20-26yo; unmarried.
Must speak English and be able to socialise with tourists.
Good swimmer; preferably with previous dive experience.
Self-motivated.
Salary, Accommodation, Gear
Basic monthly salary plus working conditions as applicable for other dive staff.
A full set of dive gear will be provided for the duration of the internship.
Accommodation provided if you do not live close to AMD-B's office.
Application dates: 01 Jan-14 Feb 2022
Incomplete applications, or applications sent outside the application period, will not be considered.
April – May
Irrespective of any dive certification held, you will complete the PADI OWDC and AOWDC.
By the end of May, you will be EFR trained and have started the Rescue theory and pool practice.
June
By the end of June, you will be certified as a PADI Rescue Diver. This means you will have been involved with several rescue scenarios in different locations. For example, at: the rocky beach at Tulamben, the wavy beach near the airport, by boat at Blue Lagoon outside Padangbai, by boat in the swell at Manta Point (or similar), by boat in a strong surface current, etc.
July – August
These two months are dedicated to the PADI DM course and assisting with as much guiding as possible.
By the end of August, you will be certified as a PADI Divemaster and be a semi-experienced dive guide with a professional, positive and safety-oriented approach to scuba-diving.
September – October
You will join AMD-B's dive staff team to build upon and practise your skills and knowledge.
End of Programme
At the end of the seven month contract period:
If you would like to stay with AMD-B and we have a vacancy for a Junior Dive Guide, then it's a match made in heaven.
Otherwise you will be free to leave with newly acquired knowledge, experience and certifications.
AMD-B's Past Divemaster Interns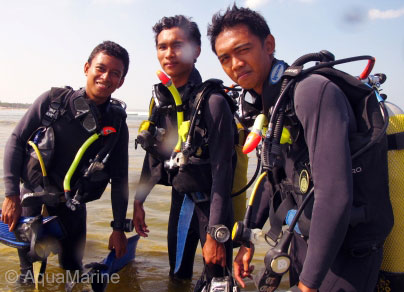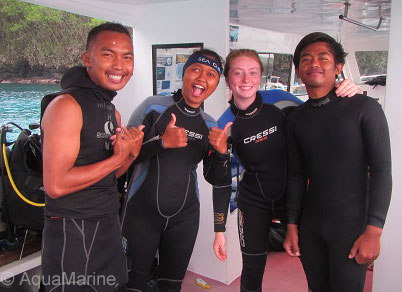 Book Now - PADI Divemaster Course
† Disclaimer: We are required by law to display prices in IDR (Indonesian Rupiah). IDR prices are divided by 10,000. Click the $£€¥… link beside each price to display the price in your currency. Exchange rates are updated once per day. Today the rate used is 1 IDR = 0.000068 USD (1 USD = 14,661 IDR). These values are provided for informational purposes only. Please contact us to verify exact prices.