PADI Divemaster Course Bali –  with AquaMarine Diving
Divemaster Internship and Certification with AquaMarine Diving – Bali
AquaMarine Diving – Bali would like to be there to help you start off your diving career in the right way. Entering the professional world of scuba diving brings exciting challenges and endless possibilities as scuba diving is becoming one of the most popular sports in the world! Meet nature's fascinating underwater world on a daily basis, and share your professional knowledge and experiences with guests and students who want to learn. Join our Divemaster Course Bali.
What Does it Mean to be a PADI Divemaster?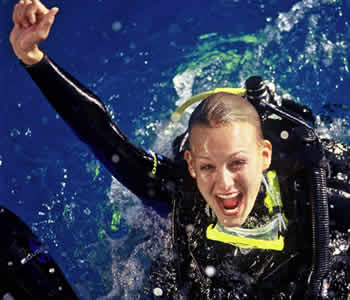 The Divemaster rating marks you as a person who has:
A high level of personal diving skill
Instructor-level knowledge of diving theory
Received significant training in how to assist an instructor during training activities.
The ability to assume appropriate responsibilities that benefit the welfare of other divers
As a PADI Divemaster you are certified to:
Organise, conduct and supervise recreational diving activities, both land and boat based
Assist PADI Instructors in conducting scuba diving courses
As a PADI Divemaster you are able to:
Act as a certified assistant to PADI Instructors
Supervise participants in PADI experience programmes for uncertified divers
Generally supervise both training and non-training related diving activities, as well as planning, organising and directing dives
Teach and certify PADI Skin Divers
Conduct the PADI Scuba Review programme for certified divers
Enrol in PADI Instructor level training
How to Become a PADI Divemaster
To Qualify for PADI Divemaster Training You Must:
Be certified as a PADI Rescue Diver (or equivalent) with EFR training (or equivalent) in the past 2 years
Have logged a minimum of 40 Open Water dives prior to starting PADI Divemaster training; 60 Open Water dives prior to certification as a PADI Divemaster
Be at least 18 years old
Be in good physical condition for diving and submit a medical exam form signed by a physician
Three Phases of the PADI Divemaster Programme
Knowledge Development
Water skills and stamina assessment
Practical Application and assignment
1. Knowledge Development
The Role and Characteristics of a PADI Divemaster
Supervising General Diving Activities (2 Parts)

*

Assisting with Student Divers in Training

*

Dive Theory Introduction
The Physics of Diving

*

The Physiology of Diving

*

Dive Equipment

*

Decompression Theory and the RDP

*

Divemaster Conducted Programme

*

Risk Management
Business of Diving
Your Diving Career
*With final exam
Additional exam = Skills and Environment (study from PADI Open Water Diver Manual, Adventures in Diving Manual, Rescue Diver Manual, and Diving Knowledge Workbook)
2. Water Skills and Stamina Module
400 yards swim
15 minutes tread
800 yards snorkel swim
100 yards inert diver tow
Rescuing unresponsive, non-breathing diver underwater
Skill assessment
Part 1: Skills Development
Part 2: Performing 20 basic scuba skills
Practical Application and Assignment
Mapping Project and Emergency Assistance Plan
Divemaster-Conducted Programme
Equipment Exchange Exercise
3a. Practical Application (Internship option)
One PADI OW Course confined water
Four Additional confined water from any PADI Course
One PADI OW Course Training Dive
One PADI OW/Advanced/Rescue/Specialty training
Three additional OW training from any PADI Course
One Supervising Situation, not in formal course
3b. Practical Application (Role Model option)
Certified Divers in open water
OW Students in confined water
OW Students in open water
Con-Ed Students in open water
Practical Application involves training activities using various structured training sessions, simulated scenarios and internship sessions with actual PADI programmes. These training sessions with AquaMarine enable you to gain practical experience as an instructional assistant and a supervisor of open water diving activities, both as a coordinator and as an underwater guide.
Next Steps after DiveMaster
Maybe you want to go on to become a PADI Instructor? The training and experience you gain through the PADI Divemaster programme helps shape your abilities and attitude towards being a professional level diving educator.
We can assist you in finding a place on a Bali-based Instructor Development Course I(DC) and Instructor Exam (IE) programme.
† Disclaimer: We are required by law to display prices in IDR (Indonesian Rupiah). IDR prices are divided by 10,000. Click the $£€¥… link beside each price to display the price in your currency. Exchange rates are updated once per day. Today the rate used is 1 IDR = 0.000065 USD (1 USD = 15,405 IDR). These values are provided for informational purposes only. Please contact us to verify exact prices.