Bali Dive Sites: Amed – Jemeluk Bay
Reef Diving, Wall Diving, & Snorkeling in Amed

Amed's peaceful Jemeluk Bay has an area of reef to the left and, to the right, The Wall. You will see many varieties of sponges, soft corals, clownfish, surgeonfish, and many other varieties of fishes, along with sea fans. It is also popular with snorkellers. Calm conditions make it a gentle, relaxing dive.
Peaceful Jemeluk Bay Dive Site in Bali
This small coral reef lies in depths ranging from 12-22m. In this area you will find many different kinds of sponges, colourful soft corals and sea fans.
Marinelife in Jemeluk Bay
The marinelife at this Bali dive site includes everything from lobsters, shrimp and goby sets, to anemones with attendant clownfish, and Blue-spotted rays, parrotfish, angelfish, surgeonfish and moray eels, as well as turtles, reef sharks and Bargibanti pygmy seahorses.
Close by are some FADs (Fish Attracting Devices) called "Pyramids" which have proved popular with morays and similar but have yet to develop any substantial coral cover.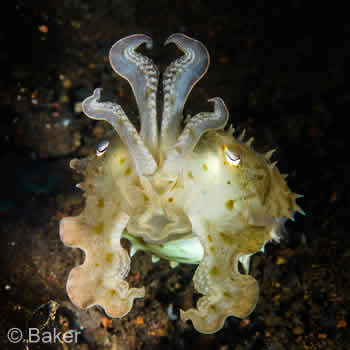 Wall Diving
The Wall at the Jemeluk Bay dive site is a series of short, jagged walls dotted with large Barrel sponges and a variety of sea fans.
Here you can expect to see an occasional big trevally as well as small schools of Bluefin trevally, Redtooth triggerfish, snapper, fusilier, bannerfish, and butterflyfish.
Drifting along The Wall you will see corals (including black corals) and invertebrates with crinoids as well as fish life. Coming shallower – hard and soft corals, sponges, scorpionfish, nudis and other macro critters.
Include Jemeluk Bay in
or