Bali Dive Courses: Specialties – PADI Wreck Diver Specialty
AquaMarine Diving – Bali's PADI Wreck Diver Specialty teaches divers the necessary safety procedures and methods for properly diving wrecks.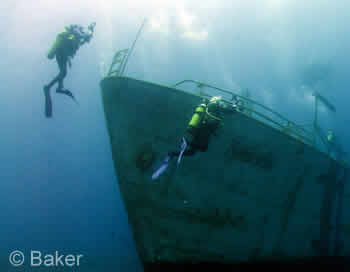 Like Shipwrecks? The Wreck Diver Specialty is for you!
Shipwrecks are exciting and intriguing dive sites to explore and the PADI Wreck Diver Specialty will show you how to get the most out of wreck diving.
AquaMarine Diving – Bali conducts the PADI Wreck Diver Specialty on Tulamben's 120m USAT Liberty Shipwreck – which is Bali's Number One dive site.
You will learn how to plan and organise wreck dives, along with learning the procedures, techniques, problems and hazards of wreck diving.
The course teaches you about the preparation and use of lights, air supplies, special equipment, penetration lines and reels.
You will also learn emergency procedures and limited-visibility diving techniques.
The world-famous USAT Liberty Shipwreck in Tulamben Bay is not the only wreck in Bali. After certification you can dive the Anker Wreck at Menjangan Island, the Kubu wreck just north of Tulamben Bay, the "Japanese" wreck in Amed, and the Jepun wreck just outside Padangbai on Bali's east coast.
† Disclaimer: We are required by law to display prices in IDR (Indonesian Rupiah). IDR prices are divided by 10,000. Click the $£€¥… link beside each price to display the price in your currency. Exchange rates are updated once per day. Today the rate used is 1 IDR = 0.000065 USD (1 USD = 15,472 IDR). These values are provided for informational purposes only. Please contact us to verify exact prices.