Bali Dive Sites – Tulamben Area
Tulamben Diving – Walls, Wrecks, Muck Diving, Pelagics!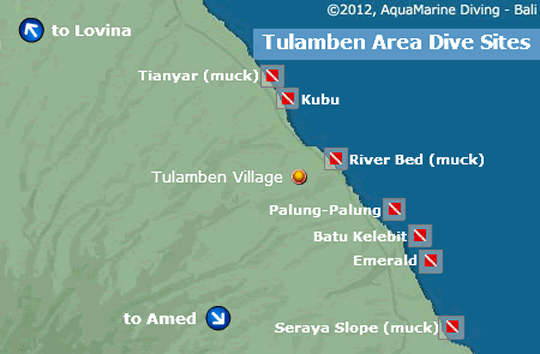 Tulamben Area: From Muck to Pelagics
There are, in fact, quite a number of dive sites in the Tulamben Area (ie: outside Tulamben Bay). Most are mainly to the south east, but here we are only detailing the better-known sites.
Because these sites are outside Tulamben Bay, they are more exposed and can be affected by currents however they are suitable for all levels beyond beginner.
What to Expect at the Tulamben Area Dive Sites
What You Can See in Tulamben Area
Some of these Tulamben Area dive sites are popular areas for macro (muck) diving revealing many small critters in easy-to-photograph environments. The best known is Seraya Slope, further details of which are found on our Muck Diving page.
The diving at other sites is best below 18m and therefore offers the possibility to see pelagics including Manta and Eagle rays, some sharks – mainly reef sharks but there have been sightings of Scalloped hammerheads, and the occasional Mola-Mola (Ocean sunfish).
AquaMarine Diving – Bali could easily put together a 7+ Day Tulamben Bay and Tulamben Area Dive Sites Safari with 3-4dives/day at a different site each day. If that appeals to you, contact us via our request page and we'll go from there.
The sites offer a variety of conditions and types of diving, one of our most popular trips is to Seraya Slope for our muck divers and macro photographers. Emerald is a good place for sharks, rays and Barrel sponges.
Popular Sites in the Tulamben Area
These Tulamben Area dive sites include Seraya for muck-diving and Batu Kelebit, Palung-Palung, Kubu, and Emerald for other marinelife including reef sharks, Napoleon wrasse and Bumphead parrotfish.
Tulamben Area Dive Sites General Overview
Location:
Area surrounding Tulamben Bay, north east coast of Bali
Depth:
12 – 25 metres
Visibility:
12 – 25 metres
Current:
None to mild
Min. Level:
Beginner
Dive Types:
Shore or jukung (local boat) dive
Wall, reef and muck diving
Conditions:
Some of these sites are less protected than Tulamben Bay therefore both visibility and the water temperatures can vary.
Highlights:
Popular areas for macro (muck) diving revealing many small critter species in an easy to photograph environment as well as opportunities to view pelagics in Batu Kelebit.
PADI Courses:

Popular PADI Specialties at Amed:

Include Tulamben Area in
or